Organization: Welcome Tomorrow 2019
Sector: Evento
Reach: Brasil
Area: Marketing
Period: 2019
Technology: Living Influencers
THE CHALLENGE:
Mapear e indicar para o Welcome Tomorrow, um dos maiores eventos sul-americanos sobre inovação e referência em mobilidade e gestão do tempo, os influenciadores digitais multistakeholders relevantes para o encontro ganhar maior visibilidade e repercussão. Com edição anual, o evento acontece em São Paulo e conta com a presença de mais de 10 mil participantes.
THE NET:
A rede foi composta a partir de pesquisa Netnográfica na Web brasileira com foco em social medias (Linkedin, Instagram, Facebook, Twitter, Youtube), identificação de influenciadores e qualificação deles por influência e relevância. Os influenciadores foram divididos em 7 eixos temáticos: Empreendedorismo; Qualidade de vida; Educação; Protagonismo feminino; Futuro do trabalho; Mobilidade; Cidades.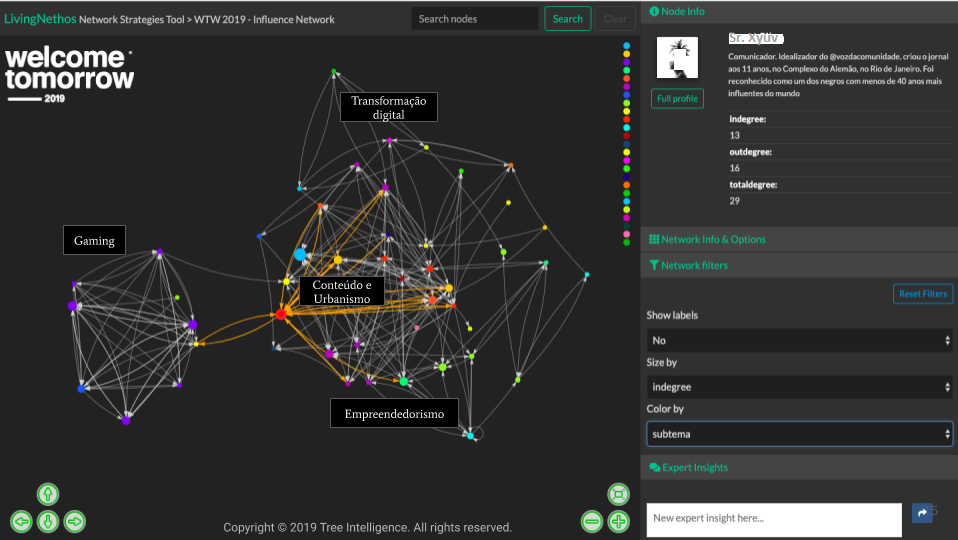 A ESTRATÉGIA DE SUCESSO:
Com o mapeamento foi possível criar estratégias para concentrar e estimular a circulação da comunicação tendo os atores mais influentes da rede como "start" para a compreensão de como a informação flui no Pequeno Mundo do Welcome Tomorrow. Além disso foi possível detectar tendências apontadas dentro das narrativas dos Influenciadores sobre temas de engajamento cívico e protagonismo feminino, por exemplo.
Share your challenges here and we'll find the best way to help your organization.